The water purifier Aquaphor Crystal is a new generation filter providing multistage purification of drinking water. Aquaphor Crystal - a stylish and ergonomic "slim" design, fast access to high-quality drinking water. Cartridges of the water purifiers are manufactured according to the carbon-block technology as a filter matrix media with a content of activated coconut carbon and ion-exchange fibre AQUALEN. As a bactericide cartridges contain cluster microcrystalline silver.
---
Modern slim-design
Applying a new patented design of collector and the new conception «block-cartridge» , the water purifier Aquaphor Crystal reached ultra-compact design.
---
Softens Hard Water
Recommended for use with hard water. Reduces lime-scale.
---
Bacterial safety
For the first time replacement filter cartridges of the water purifier are represented as a single «block-cartridge» with the durable plastic housing. Replacing the cartridge you replace not only filtering media bud renew the housing of the water purifier as well. That guarantees additional protection from bacterial grown in case of long-time application of the filter.
---
Removal of colloid iron
The water purifier Aquaphor Crystal efficiently removes colloid iron applying space filtration. Space between granules in Aquaphor filters is filled with ion-exchange fibers Aqualen with 0.02 mm in diameter. Thereby the water purifier efficiently removes even small particles of colloid iron.
---
New line of cartridges
Quantity of sorbent in each filter cartridge increased by 10% comparing to the standard 10" cartridge. That allows to reach higher quality of water purification and increase the lifetime of water purifier.
---
Separate tap
A modern tap with a ceramic pair simplifies application of the water filter: pure water is available for you and your relatives any time without additional efforts.
---
Easy cartridge replacement
Replacement of the cartridges requires neither excessive force nor special tools. Replacement of all three cartridges takes within minute.
---
Deep purification
Removes all common impurities including chlorine, lead, bacteria and cysts.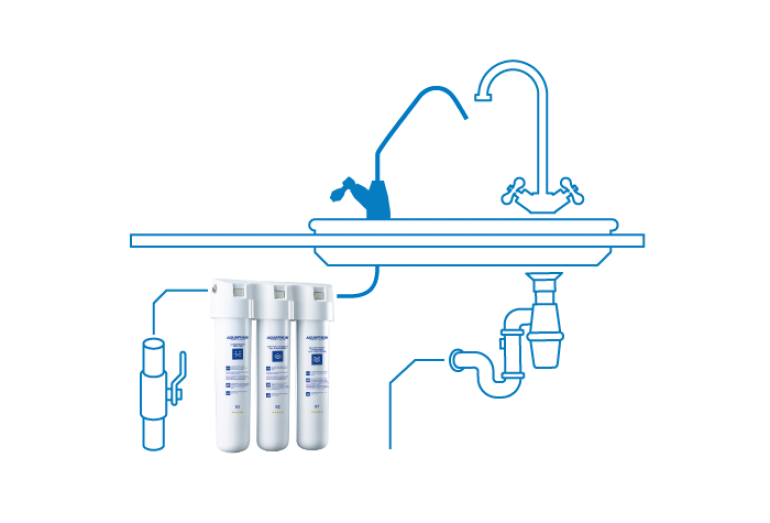 Size (H x W x D):
26 x 9 x 34 cm
(10.2 x 3.5 x 13.4 inches)
Weight:
3 kg (6.5 lb)
Filtration rate:
2.5 L/minute (0.66 Gal/minute)
Treated/Drained ratio:
no drain
Tap pressure:
does not matter
Water temperature:
5–38 °C (41–100 °F)
pH after system:
6 - 7
Replacement filters:
К3, КH, K7
Replace:
every 12 months
Faucet:
separate for drinking water
Aquaphor Crystal dramatically reduces harmful substances found in tap water. They include:
- sediment, such as rust, sand, mud, pollen
- chlorine, chloroform and other organic chlorine compounds
- metals and heavy metals: iron, lead, mercury, copper, aluminum
- petrochemicals
- phenols
Crystal packaging set includes:
Purifier Housing
Set of cartridges
JG connection tubes
Shut off valve or tee angle
Drinking water faucet
Service cap
---
Installation Manual
---
Customer Rates And Reviews
Your rate:
Replacement Cartridges For Crystal H
Related products

Related products

Related products