Customer Rates
Microfiltration cartridge of Crystal ECO ensures 99.99% protection from bacteria, cysts of parasites, suspended particles, rust, silt. All under-counter water filters of Crystal family are more compact compared to classic trio under-counter systems while containing same amount of sorption filling as traditional 10 inches modules. The housing is designed to withstand massive water pressure, is extremely easy and safe to change still secure from accidental removal.
Reduce 99.9% bacteria and cysts.
Crystal Eco is perfectly suitable for allergy sufferers, children, seniors and those who have sensitive digestive and immune systems. It provides chemical-free removal of microorganisms in water using hollow fiber microfiltration membrane which prevents particles down to 0.1 microns in size from sneaking into your drinking water.
Aquaphor Crystal - a stylish and ergonomic "slim" design which provides fast access to high-quality drinking water. It comes with a high quality separate tap that can be rotated 360 degrees. Its ceramic valve provides for a long lifespan. Replacement filters last much longer than normal systems due to the increased amount of adsorbent. The Crystal also outperforms other brands because it is much easier to replace filters due to the special fasteners which require minimal time and effort. In addition, filters are replaced with housing that prevents contamination.
It takes up minimal space and safely cleans water of any chlorine, organic compounds and other impurities. It is recyclable, makes use of an environmentally friendly production process, and is made of heavy-duty plastic.
This is a three-stage water filtration system which offers high quality water filtration using the latest activated carbon block technology. This system uses a composite carbon block filtration matrixes which includes a pore size of 0.1, 0.8 and 5 micron and has an increased amount of activated coconut carbon which will safely remove chlorine and any other unwanted chemicals, bacteria, lead and other harmful heavy metals, phenol, pesticides, benzene, volatile organic compounds, insecticides, pesticides, industrial solvents and many other common impurities. This system offers substantial filtering performance for its size and will greatly enhance the quality of your drinking water.
Please note: AQUAPHOR CRYSTAL ECO DOES NOT SOFTEN THE WATER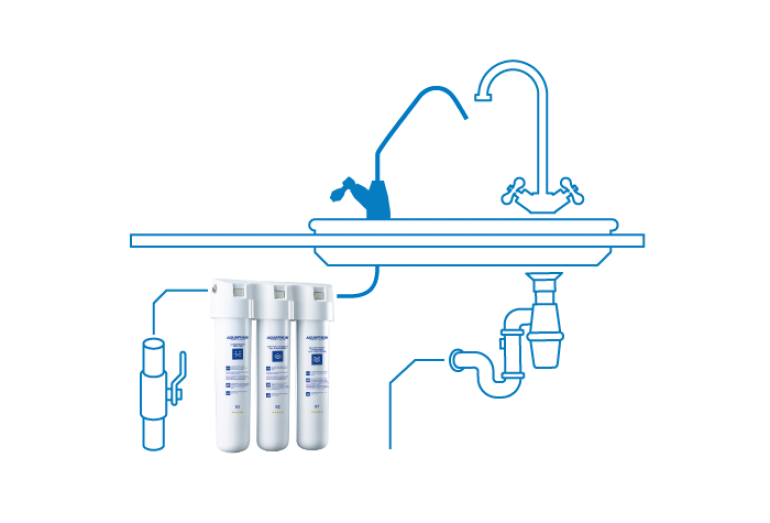 Size (H x W x D):
26 x 9 x 34 cm
(10.2 x 3.5 x 13.4 inches)
Weight:
4 kg (6.5 lb)
Filtration rate:
2.5 L/minute (0.66 Gal/minute)
Treated/Drained ratio:
no drain
Tap pressure:
does not matter
Water temperature:
5–38 °C (41–100 °F)
pH after system:
6 - 7
Replacement filters:
К3, К7B, K7
Replace:
every 12 months
Faucet:
separate for drinking water
Aquaphor Crystal ECO chemical-free removal of microorganisms in water using hollow fiber microfiltration membrane which prevents particles down to 0.1 microns in size from sneaking into your drinking water. It also dramatically reduces harmful substances found in tap water. They include:
- sediment, such as rust, sand, mud, pollen
- chlorine, chloroform and other organic chlorine compounds
- metals and heavy metals: iron, lead, mercury, copper, aluminum
- petrochemicals
- phenols
Customer Rates And Reviews
Your rate:
Replacement Cartridges For Crystal ECO
Related products

Related products

Related products