Economical version of the system with a separate tap with a high rate of filtration. It effectively removes harmful impurities up to 1 micron in size, including chlorine, lead, heavy metals and bacteria. Filter Aquafor Trio reliably cleans soft water, preserving its mineral composition.
Trio provides high-quality water treatment and the convenience of a high quality separate tap with 360 degree rotation and ceramic valve for long lifespan for a low initial price and maintenance costs. Located under the sink, Trio takes up little space and is a valuable addition for even the smallest of kitchens.
---
Removal of colloid iron
The water purifier Aquaphor Trio efficiently removes colloid iron applying space filtration. Space between granules in Aquaphor filters is filled with ion-exchange fibers Aqualen with 0.02 mm in diameter. Thereby the water purifier efficiently removes even small particles of colloid iron.
---
Separate tap
A modern tap with a ceramic pair simplifies application of the water filter: pure water is available for you and your relatives any time without additional efforts.
---
Deep purification
Removes all common impurities including chlorine, lead, bacteria and cysts.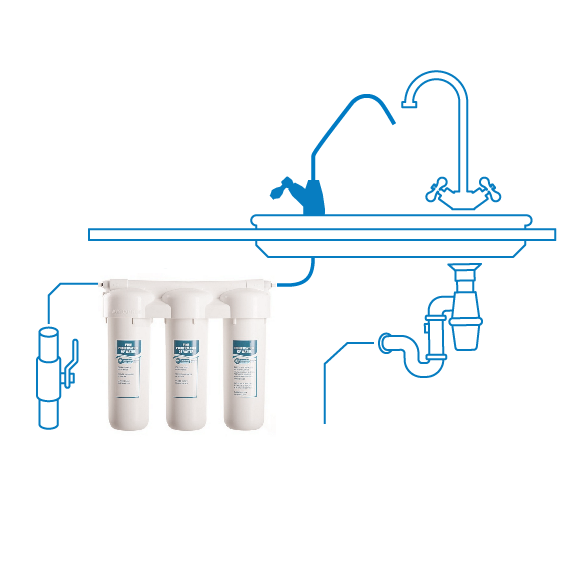 ---
| | |
| --- | --- |
| Size (H x W x D): | 36 x 135 x 30 cm |
| Weight: | 3.5 kg |
| Filtration rate: | 2.5 L/minute (0.66 Gal/minute) |
| Treated/Drained ratio: | no drain |
| Tap pressure: | does not matter |
| Water temperature: | 5–38 °C (41–100 °F) |
| pH after system: | 6 - 7 |
| Replacement filters: | B510-3, 2, 7 |
| Replace: | every 12 months |
| Faucet: | separate for drinking water |
---
Aquaphor Trio dramatically reduces harmful substances found in tap water. They include:
- sediment, such as rust, sand, mud, pollen
- chlorine, chloroform and other organic chlorine compounds
- metals and heavy metals: iron, lead, mercury, copper, aluminum
- petrochemicals
- phenols
Customer Rates And Reviews
Your rate:
Replacement Cartridges For TRIO
Related products

Related products

Related products

Related products

Related products