Customer Rates
---
Aquaphor Morion DWM-101
This model is no longer produced by manufacturer.
A newer model avialable

---
Description
Aquaphor invented a reverse osmosis system that will fit almost any under sink cabinet. Aquaphor RO-101 is the most compact reverse osmosis water purifier with the full-size membrane. You'd be surprised how little space it requires.
However, compactness does not lead to diminished performance - RO-101 replacement filters contain 10% more adsorbents than traditional 10'' cartridges for drinking water systems and a full-size 50 gallon per day membrane. It means that you have fresh homemade drinking water from tap whenever you'll need it.
Morion has up to a 50% smaller footprint than traditional RO purifiers, thanks to build-in storage tank. It is compact enough to fit under your sink. Living in a small or old house is no longer an excuse for drink­ing bad quality water. It comes with high quality water tap with 360 degree rotation and ceramic valve for long lifespan.
Dispensor:

a separate faucet for drinking water

Filtration rate:

40-60 min to fill tank

Treatment performance:

190 L/day (50 Gal/day)

Efficiency:

For every part of filtered water only 5 parts are wasted.

Tap pressure:

1.9-6.3 bar (27.6–91.4 psi) recommended

Size ( W x H x D):

19 x 42 x 37 cm
(7.5 x 16.5 x 14.5 inches)

Weight:

6.2 kg (13.7 lb)

Water stored:

5 L (1.3 Gal)

Water temperature:

5–38 °C (41–100 °F)

Mineralization:

0.56 - 1.4 °dH (10 - 25 ppm)

pH after DWM:

6 - 7

Replacement filters:

К5, К2, Membrane, K7M

Replace:

every 6-12 months, membrane serves up to 2 years
---
Installation Manual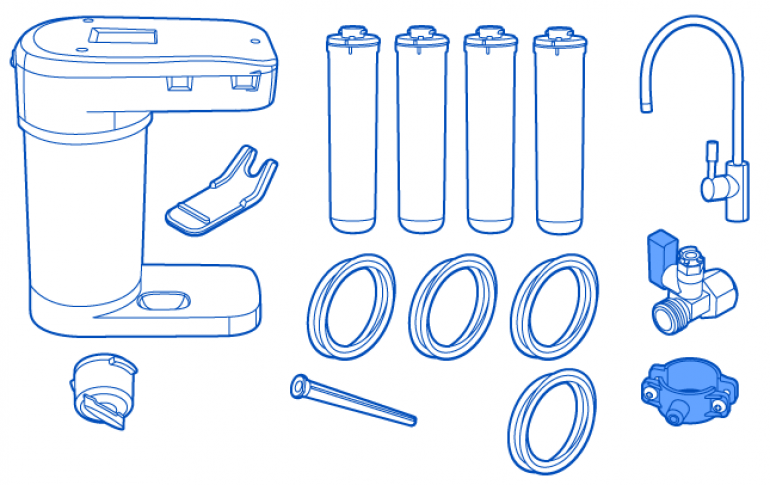 RO-101 Packaging set includes:
Purifier Housing
Set of cartridges
JG connection tubes
Shut off valve or tee angle
Drain Settle
Air gap faucet
4 service caps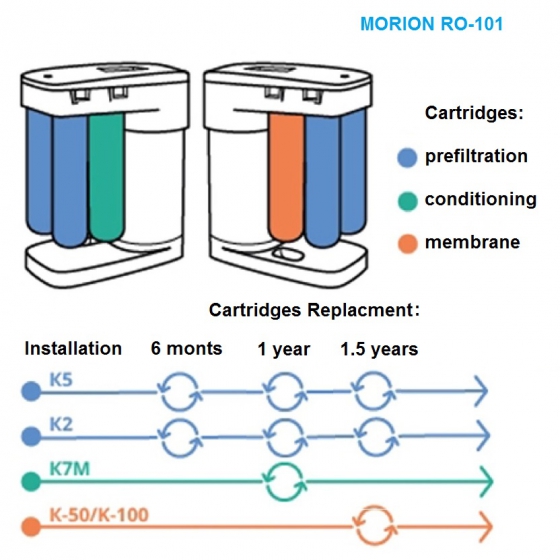 Customer Rates And Reviews
Jonathan
An excellent device. Small enough to fit under our kitchen sink. Water tastes excellent from it.
Seller:
13 Jun, 2017. Verified purchase: Yes
Artem
Great water filter. We have quite low water pressure( 2.4 bar ) and it works. Also we couldn't install any traditional filters with separate water tank due to big size. Great taste of the water, no limescale and white flakes in our pot.
Seller:
05 May, 2017. Verified purchase: Yes
Your rate:
Replacement Cartridges For Morion RO
Related products

Related products

Related products

Related products

Related products