Customer Rates
Two days free delivery to the UK
The best way to make drinking water at home.
For clean, fresh and tasty water right from your tap.
Saves 2/3 of undersink space
---
Aquaphor invented a reverse osmosis system that will fit almost any under sink cabinet. Aquaphor RO-101S is the most compact reverse osmosis water purifier with the full-size membrane. You'd be surprised how little space it requires.
However, compactness does not lead to diminished performance - RO-101S replacement filters contain 10% more adsorbents than traditional 10'' cartridges for drinking water systems and a full-size 50 gallon per day membrane. It means that you have fresh homemade drinking water from tap whenever you'll need it.
Morion has up to a 50% smaller footprint than traditional RO purifiers, thanks to build-in storage tank. It is compact enough to fit under your sink. Living in a small or old house is no longer an excuse for drink­ing bad quality water. It comes with high quality water tap with 360 degree rotation and ceramic valve for long lifespan.
Dispensor:

a separate faucet for drinking water

Filtration rate:

40-60 min to fill tank

Treatment performance:

190 L/day (50 Gal/day)

Efficiency:

For every part of filtered water only 5 parts are wasted.

Tap pressure:

1.9-6.3 bar (27.6–91.4 psi) recommended

Size ( W x H x D):

19 x 42 x 37 cm
(7.5 x 16.5 x 14.5 inches)

Weight:

6.2 kg (13.7 lb)

Water stored:

5 L (1.3 Gal)

Water temperature:

5–38 °C (41–100 °F)

Mineralization:

0.56 - 1.4 °dH (10 - 25 ppm)

pH after DWM:

6 - 7

Replacement filters:

К5, К2, Membrane, K7M

Replace:

every 6-12 months, membrane serves up to 2 years
---
Installation Manual

---
NSF Certificate

Aquaphor DWM-101 reduces hardness and harmful substances found in tap water. They include:
- hardness (limescale)
- sediment, such as rust, sand, mud, pollen
- chlorine, chloroform and other organic chlorine compounds
- metals and heavy metals: iron, lead, mercury, copper, aluminum
- petrochemicals
- phenols
- nitrates, nitrites
- pharmaceuticals, including hormones and antibiotics
- bacteria
- viruses and cysts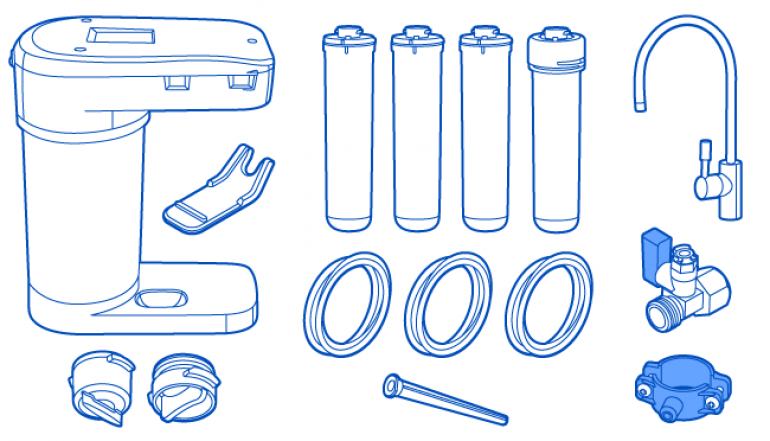 RO-101 Packaging set includes:
Purifier Housing
Set of cartridges
JG connection tubes
Shut off valve or tee angle
Drain Settle
Air gap faucet
4 service caps
Customer Rates And Reviews
Alexander
Had this system for 6 months now in the UK. I have to say it makes a huge difference to the quality of water you drink, kettle, iron and pots no longer have limescale; water is very tasty and satisfying to drink. We have a separate tap but looking at the option for 2in1 tap now, I am thinking I might have considered that initially. Bought my first set of replacement filters from Cleanaqua - K5 and K2. Clearly a genuine product, fits easily and after reading several guides and videos, I could replace myself whtout much hassle. In summary, this is a great system, really worth the money.
Your rate:
Replacement Cartridges For Morion RO
Related products

Related products

Related products

Related products

Related products