Customer Rates
AQUAPHOR MODERN
Elegant counter-top multi-level water purifier will shine in every kitchen.
This faucet water filter has the greatest resource and performance. Through a combination of fibrous and granular adsorbents, Aquaphor Modern deeply purifies the water. It can also be equipped with softening filter modules.
Easily adjustable stainless steel filtered water spout includes one set of replacement cartridges.
Contains ©Aqualen and Silver Ions ISO 9001:2008 TUV Nord Certified
---
BOX CONTAINS
1 AQUAPHOR Modern Water Filter For Threaded Faucet
2 (B200-5) Water Filter Cartridges ( Set ) up to 4000 Litres
Description of use booklet
---
AQUAPHOR MODERN
Size: 27 x 11.7 cm
Filter life: 4000 L
Filtration rate: 1 - 1.2 L / min
Replacement filter: B200-5
Replacement filter for hard water: B200-6
Aquaphor filter cartridges dramatically reduce most harmful substances found in tap water. They include:
- sediment, such as rust, sand, mud, pollen
- chlorine, chloroform and other organic chlorine compounds
- metals and heavy metals: iron, lead, mercury, copper, aluminum
- petrochemicals
- phenols
- large bacteria
Please measure your tap thread to make sure Aquaphor Modern will fit. Watch the installation guide below. AQUAPHOR MODERN provides an option of easy installation only on threaded faucets: (M22x1 - external or M24x1 - internal). Your tap aerator has to have exact measurement, see picture below: We do not provide connectors of other sizes.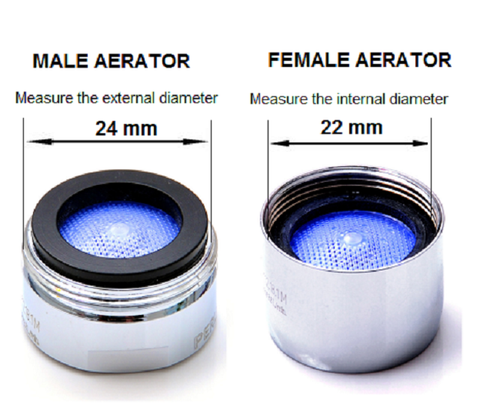 Installation Video
Customer Rates And Reviews
mulde_2015
happy so far Was easy to instal and the water looks great, can;t say anything about the filter life as I have only just instaled it
Seller:
05 Jul, 2017. Verified purchase: Yes
6350elaine
Better than a filter jug Although it's quite large have on the draining board it is preferable to a filter jug and much more convenient. It was easy to fit too.
Seller:
08 Mar, 2017. Verified purchase: Yes
boyka2104
Great water filter Great product easy to install and use.
Seller:
02 Mar, 2017. Verified purchase: Yes
tolqe_a-8
Great!!! Great product and so easy to install and use,it works really well
Seller:
25 May, 2017. Verified purchase: Yes
blue-world
Great filter to be used anywhere. We bought this and we really love it. Easy to mount and the water tastes very good. You wont be disappointed if you buy this.
Seller:
01 Sep, 2016. Verified purchase: Yes
laurentiu-alexandrstra-0
Good working order. Ty.
Seller:
03 Nov, 2016. Verified purchase: Yes
lapostola
purify water perfectly A bet hard to install to some taps but after inventing some better adaptor fits and don't leek
Seller:
26 Apr, 2016. Verified purchase: Yes
Your rate:
Replacement cartridges
Related products

Related products

Related products

Related products