Features
A jug that is durable, beautiful and comfortable in daily use. The elegant design of the Onyx jug combines its sizeable capacity of 200 litres with an ability to deeply cleanse water of harmful impurities, extraneous flavours and odours.
Similarly to glass pitchers, the Onyx is manufactured using the traditional blowing technique.
It is made of durable, unbreakable plastic that is safe to come into contact with food. Because of its round base, the Onyx is more stable than conventional jug filters. It is difficult to overturn such a jug accidentally, but even if a child drops it, the jug will not break. This makes the Onyx safe for use in families with young children.
To make sure you always drink clean water, please remember to replace the filter module on time.
The Onyx's mechanical counter will help you in this: it measures the amount of water that has already filtered by registering every time you open the cover to pour more water in. The time when you need to replace the filter module is determined with maximum accuracy.
The Aquaphor Onyx comes with the Maxfor+ cartridge.
Pitcher has an increased filter life, easy-fill flip-top lid and an indicator of remaining filter life for your convenience.
All parts are produced of food-grade materials and are BPA-free.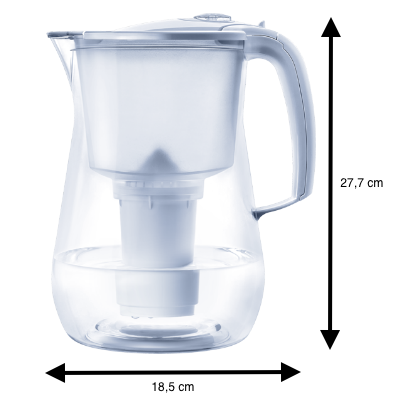 ---
Technical specifications
| | |
| --- | --- |
| Pitcher capacity | 4.2 L (17 x 8 oz cups.) |
| Funnel volume: | 2 L (8 x 8 oz. cups ) |
| Filtration rate: | 3-10 min |
| Lid style | flip-top |
| Replacement cartridge: | B100-5 |
| Filter life: | 200 L |
| Replace: | every two months |
| Filter life indicator: | Mechanical |
---
BOX CONTAINS
1 AQUAPHOR ONYX 4.2 L Water Filter Pitcher
1 x B25 Maxfor+, 200 Litres Water Filter Cartridge
Description of use booklet
Aquaphor filter cartridges dramatically reduce most harmful substances found in tap water. They include:
- sediment, such as rust, sand, mud, pollen
- chlorine, chloroform and other organic chlorine compounds
- metals and heavy metals: iron, lead, mercury, copper, aluminum
- petrochemicals
- phenols
- large bacteria
---
Friendly Warnings
Pitchers filters are classics of drinking water purification. They are beautiful and affordable, and easy to use. And they have downsides:

Replace filters every couple of months following user manual. When filter capacity is exhausted it becomes useless.

Pitcher filter has limited capacity to soften water and prevent scale formation. Softening effect may end sooner than filtration capacity depending on water hardness.

Designed to purify municipal tap water. Filtering water from other sources with a pitcher could improve its quality but may be not enough to drink it safely.

Do not store filtered water for more than few hours outside of the fridge. Without chlorine, there is nothing to prevent its recontamination.
Customer Rates And Reviews
Your rate: